MatthewWeathers.com Home Page - Archive March 2000
June 12, 2010 - March 2000 Archive

Below is what my web page looked like in March 2000, within a year of when I first moved the site to the domain name MatthewWeathers.com. In looking at this more than ten years later, there are a couple of things I notice.

First of all, I'm surprised to see that I have the same "brand" or "logo" - my name on a purple background since then. I thought it was more recent than that. That means that the main image on my site is more than 10 years old. The section Current Happenings was kind of an early blog. Although blogging was around in those days ("blog" was first used mid-1999), I'm not sure I'd heard of it. Keeping that section up took too much work, so it was short-lived on my web page, ending mid-2003. I started a WordPress blog mid-2006.

I see that my Matthew Who? element is almost identical to what it was ten years ago. Back in 2000, most people were still using dialup, so I attempted to make small pictures and I had a copy of the page on a Biola server - that link to the version on Biola's network went to http://josiah.biola.edu/~matthew/mw.com/ - a server that no longer exists. And those CD ROM links went to addresses like file:///D:/mw.com/index.htm - I think I remember distributing CD versions of my web site to my family and friends. I have a link to My Pager - at that time I had a pager that could receive texts. That link lead to a web page where you could type a short message, it would send it to a special email address and get delivered to my pager.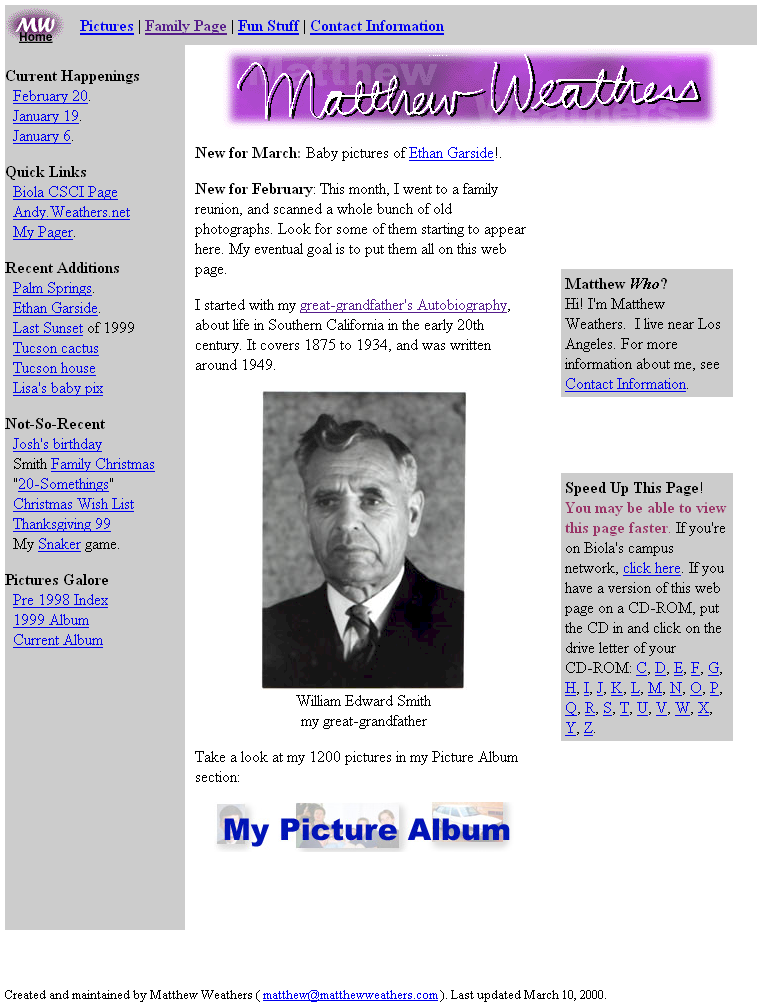 Created and maintained by Matthew Weathers. Last updated Jun 12, 2010.